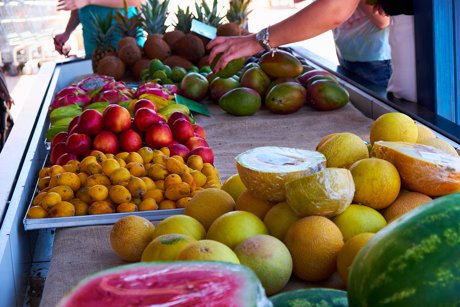 Saturday shopping has never been better on Waimea property. At the Waimea Town Market shoppers stroll about searching out wares under the Hawaiian sun. Located on the Parker School Campus at 65-1224 Lindsey Rd. the market is conveniently close to Waimea homes. Big Island products fill the landscape providing a plethora of items to choose from. From fresh produce, deliciously prepared foods, homemade goodies, merchandise and more there's plenty to pick from.
Farm fresh produce comes to the market from all over the Big Island. Veggies are green and leafy, colorful and crisp. Fruits are picked straight from the tree or right off the vines. Meats and cheeses are rich and flavorful and macadamia nut shoppers find exactly what they are looking for. Hawaiian coffees and teas earn rave reviews worldwide. Locals living in Waimea flock to the market in order to keep a steady supply on hand at home. Robust and flavorful, the selection seems endless.
Stroll the Local Market and Soak Up the Sunshine By Waimea Homes
Shopping can definitely stir up an appetite. Those meandering around will find plenty of satisfying foods to sample. Tummies are tempted by a supply of snacks and full on meals. Couples walk hand in hand indulging in coconut milk gelatos. In the morning the smell of bacon wafts out causing many to decide breakfast sandwiches are the way to go. Vegan and gluten dishes are also discovered along the aisles bringing smiles to those with special dietary needs. Freshly squeezed lemonade and fruit juices are perfectly refreshing during sunshiny days.
Finding flowers and plants is a favorite part of the market. An array of Hawaii's bountiful flora and fauna are available for purchase by growers. Colorful blooms and vibrant green plants add a spark of beauty to area homes. The Waimea Town Market takes place each Saturday from 7 a.m. to noontime. Plenty of Waimea property residents make trips a weekly occurrence. Get a glimpse of participating vendors before heading out.
I am passionate about sharing the love of the Big Island and staying true to what the island has to offer. Whether you are looking to rent, sell or buy, I'm here to help and share this slice of paradise with you.
Wishing You Much Aloha and A Hui Hou!