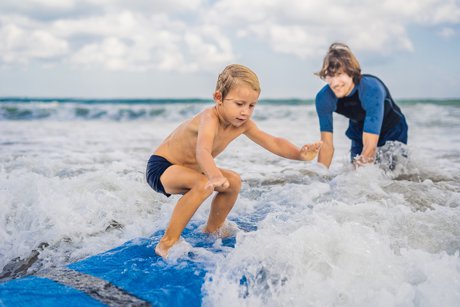 Set your sights on mastering the sea on Kona property. Kona Surf Company leads the way to conquering the waves. Whether by surfboard or stand up paddle board aquatic adventures await. Offering lessons and tours the company knows all about the ocean from the sand at the beach to the salt in the air. Safety comes first and all staff members are kept up to date on safety and water sport skills.
Anyone can learn to surf, and at Kona Surf Company it's guaranteed. Youngsters and oldtimers alike will catch a wave in no time under the confident tuteledge of this local Kona property. Group lessons are great for kids 11 and over. Friends on vacation or just ready for some fun get on board. Semi private and private lessons help others concentrate just a bit better. Open to practically any age, toddlers and grandpas will be hanging ten quite quickly. Boards, surf shirts and booties are provided at no extra charge.
Hang Ten When Living in Waikoloa
Capable surfers engage in the ultimate Hawaiian experience by partaking in a surf tour. Area experts paddle out to secret spots and share insider knowledge of the best places to surf. Excited surfers can expect to encounter lava slabs, rolling peaks, point breaks and more. Kona Surf Company provides the ride and pick up at various beaches. Participants are required to bring their own board. Trips are customized depending on current surf conditions and the customer involved. Optional items may include hiking boots, fishing poles, tents, jackets and other items necessary for a good time.
When the ocean calls out to those visiting or living in Waikoloa or Kohala can grab the moment. Kona Surf School has stand up paddle boards available for rent. Use the boards for day time trips or keep for a full week. A variety of styles are available to choose from and happy employees are ready to help select. Questions about rentals and lessons can be answered by calling 808.217.5329.


I am passionate about sharing the love of the Big Island and staying true to what the island has to offer. Whether you are looking to rent, sell or buy, I'm here to help and share this slice of paradise with you.
Wishing You Much Aloha and A Hui Hou!